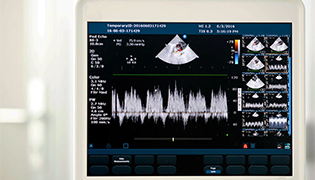 Test Center for 2D Echo
It is sometimes referred to as an echo cardiogram and uses high-frequency or ultrasonic waves to examine the beating of the heart. Additionally, it takes photos of the heart's chambers and valves and helps the sonographer analyse them. Additionally, it aids in evaluating the organ's performance, monitoring its development, and identifying any diseases.
Procedure for a 2D Echocardiogram - What to Expect
A qualified specialist administers this type of test in a separate room or an Echo lab in a hospital or healthcare centre. The following steps make up the entire process:
Even on the exam day, you are allowed to eat and drink anything you like.
A doctor has been assigned to oversee the surgery.
Your sonographer will apply a probe with gel on the tip over various sections of your chest after requesting you to lie down on a table.
To obtain correct photos and data, you can also be requested to adjust your position.
While studying, you won't feel any pain or discomfort.
One research might take up to 15 minutes.
One of the key values we uphold and adhere to strictly is honesty. Another is compassion.
What Makes Us Your Best Option?
When it comes to 2D Echo treatments and testing, Imaging World is a well-known brand.
We are dedicated to employing secure and safe technology.
Our team is accommodating and experienced, and they will help you at every step of the process.
We make an effort to reduce the feeling of overwhelmingness.
We provide prompt findings that are accurate.
We strive to offer the best patient care at reasonable prices.
"Imaging World Diagnostic centre is a rapidly growing organization based in Bopal, Ahmedabad- Gujarat, with the aim of providing accurate imaging services such as MRI Scan, CT scan, Sonography, Digital X-ray, and 2D Echo that are perfectly suitable for a wide array of applications Contact us today to learn more about our services. "